At only 2.5hrs from London, and with a purpose built MTB circuit similar to Coed Y Brenin, Afan Argoed had been calling me for some time....
The Penhydd (was the 9feet.com) trail
The first thing you'll notice about the trails at Afan is that you have to walk, through a couple of narrow gates, then up some steps, and then through another gate. I couldn't believe that a mountain bike trail could start with some walking, but, we reasoned, it was probably to stop people haring around on mountain bikes near the visitor centre.
I'd read somewhere that the layout of the trail was somewhat like Coed y Brenin, climbing on firetrack and descents on singletrack, and so the first mile surprised me, nice climbing singletrack through the woods. Then a short drop down to the first bit of firetrack. This goes up, and up, and up for some distance, and, just after you start to get bored, it goes out onto moorland and climbs further!!
At the top the trail cuts right and you have some more singletrack to ride, although not a particularly brilliant bit, it is fun nevertheless.
After this there is another "technical" section, which isn't really at all, unless you count riding through acres of mud technical!! We thought this section, along with the climb out of it ("Frog Corner") rubbish, and second time around we skipped it, riding straight to the "Hidden Valley". Unless it's been dry for weeks, I wouldn't recommend this section to anyone.
However, the next section, the "Hidden Valley" is fantastic! It really has to be one of the best bits of singletrack anywhere in the world. You ride along the side of the hill, on lovely swoopy singletrack with some nice hairpin bends to keep you in check. (click to see video!),
After the Hidden Valley is some more climbing on firetrack and then you have two sections in quick succession. "Sidewinder" and "Dead Sheep Gully". Sidewinder started with a singletrack climb and then dropped down some tight singletrack (picture right), but 'unfortunately' they have revised these two sections. Sidewinder is now a massively long section of singletrack, but this is, dare I say the word, "boring". Someone is going to hate me for this, but it's true, it's just a flat out, big ring, non-technical blast along almost straight singletrack, definitely not an improvement.
I think the same can be said of Dead Sheep Gully, I thought these two sections superb when I rode them in 2001, but in 2002, I thought them a major let down. Although if you never experienced them before, I guess you wouldn't know what you were missing - they are still nice to ride!
All that remains is more climbing on firetrack and then a couple of short but nice sections - "Genesis" (click to see video!), and then the run back to the car park on singletrack. Finishing is most bizarre (like the start) as you have to get off and walk down the last 50 yards(?!)
The Wall Trail
The Wall trail has been completely rebuilt and opened for riding at the beginning of 2003. I first rode it in February 2003 when it was very mucky and still needed bedding down a bit, but I can say now, this is a superb bit of trail. It can easily be combined with the Penhydd trail for an excellent day ride, although you'll know about it - 850m of climbing and 24.5miles after the two have been completed!
The trail starts with a bit of singletrack down to the underpass under the main road, and then along a firetrack road for a couple of miles to get over the river. Once over the river, you go back along the other side for some distance before you start climbing, both on firetrack and singletrack. This goes on for some time, and just when you think you are about to start down, it continues up again!! Never the less, the trail does go down eventually and this is a great downhill - ranked 3rd in MBR magazine's top 10 downhills in the UK (not sure about that, but it is very good!)
White's Level Trail
White's Level trail opened in 2003 and has more technical climbing that the Wall or Penhydd trails. They have also included some rock steps that you can jump off on the way down. Nothing too technical (don't go expecting North Shore or anything) but nice never the less. Two things you'll notice about this route are that a). it's a long way from the visitor centre (you can ride or drive up to Glencorwyg ponds where the start is) and b) the route is up, then down, with not a lot of flat. Another new trail is due to open May 2004, should be good!
Combine Afan Argoed with Cwmcarn, for a great South Wales weekend.
NH 2003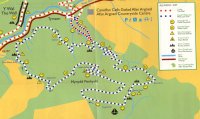 Afan Argoed - only 10mins from the M4

The first section of singletrack climbs right from the car park (note this section was changed in 2002)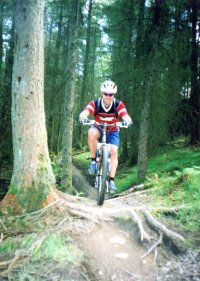 Hidden Valley - yum!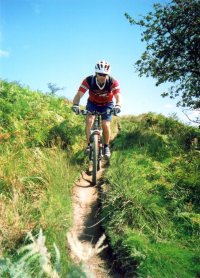 Sidewinder - double yum! (note this section is changed in 2002)