Another Welsh mountain bike centre? Even closer to London than Afan Argoed? 80% singletrack? Surely you're mistaken?
You're not mistaken friends, it's all true. In some ridiculously short period of time they have carved out a purpose built 9.5mile circuit that is 80% singletrack and less than 2hrs from West London.
My first visit was on the Jubilee weekend, and it chucked it down with rain all day. It was so miserable that we only managed 1 lap, but it was such a blast we have already scheduled another trip - hopefully I'll get some photo's this time!
NH 2002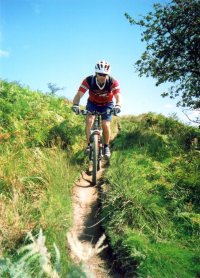 It was tipping it down with rain first time I rode Cwmcarn, so you'll have to put up with a picture of the sorely missed Sidewinder from Afan Argoed until I can get back and ride Cwmcarn again