ffff
Whiteways 1
I like Whiteways, so there will be more than one ride here, but this is one I did just recently to wet the appetite.
Start from car park at Whiteways Lodge (TQ 00240 10915)
Lunch stop, Arundel, plenty of places to eat, full of tourists and old folk in summer
Route Length 29.5km
I suggest you tackle it "anticlockwise" as you save yourself a big slog up the long bridleway on the western edge of the ride. A word of warning though, this ride (especially the bits in the woods around Whiteways Lodge) is very slippy in the wet, avoid October-March and after periods of prolonged rain.
GPS coordinates for route are shown at bottom.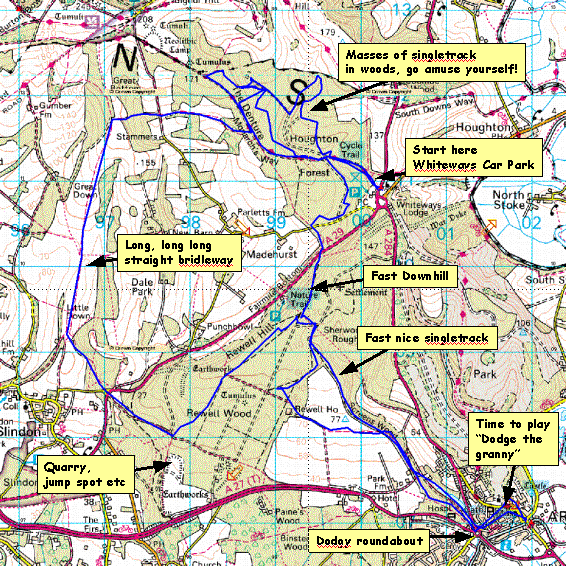 TQ 00232 10918
TQ 00155 10956
TQ 00064 11084
SU 99956 11145
SU 99853 11206
SU 99720 11257
SU 99631 11283
SU 99653 11354
SU 99560 11311
SU 99499 11420
SU 99478 11516
SU 99481 11586
SU 99496 11690
SU 99301 11742
SU 99302 11840
SU 99334 11934
SU 99412 11948
SU 99526 12028
SU 99545 12077
SU 99539 12201
SU 99497 12237
SU 99474 12170
SU 99282 12029
SU 99233 11880
SU 99173 11782
SU 99011 11976
SU 98913 12067
SU 98815 12135
SU 98748 12182
SU 98715 12217
SU 98725 12148
SU 98679 12114
SU 98604 12089
SU 98728 12104
SU 98828 12074
SU 98886 12075
SU 98579 11916
SU 98724 11575
SU 98517 11596
SU 98376 11706
SU 98103 11786
SU 97849 11805
SU 97676 11765
SU 97605 11782
SU 97452 11785
SU 97323 11762
SU 97258 11726
SU 97144 11724
SU 97096 11726
SU 96752 10422
SU 96739 10120
SU 96566 09210
SU 96661 09045
SU 96785 08942
SU 96944 08637
SU 97017 08555
SU 97227 08379
SU 97359 08261
SU 97806 08019
SU 97892 08122
SU 98046 08194
SU 98107 08258
SU 98212 08375
SU 98285 08497
SU 98355 08635
SU 98379 08688
SU 98434 08739
SU 98585 08842
SU 98647 08912
SU 99040 09281
SU 99070 09250
SU 99151 09298
SU 99192 09341
SU 99231 09383
SU 99252 09420
SU 99260 09346
SU 99367 09328
SU 99473 09341
SU 99433 09227
SU 99408 09123
SU 99627 08869
SU 99691 08746
SU 99761 08623
SU 99795 08491
SU 99914 08267
TQ 00037 08186
TQ 00229 08085
TQ 00356 07990
TQ 00440 07895
TQ 00547 07715
TQ 00610 07622
TQ 00861 07471
TQ 00922 07420
TQ 01158 07208
TQ 01336 06976
TQ 01426 06935
TQ 01594 07046
TQ 01734 07141
TQ 01941 07056
TQ 01933 07023
TQ 01813 07245
TQ 01728 07295
TQ 01659 07192
TQ 01412 06968
TQ 01337 06904
TQ 01304 06960
TQ 01256 07032
TQ 01054 07221
TQ 00803 07296
TQ 00756 07382
TQ 00708 07440
TQ 00657 07558
TQ 00595 07661
TQ 00560 07745
TQ 00500 07840
TQ 00441 07930
TQ 00344 08071
TQ 00271 08079
TQ 00211 08046
SU 99924 08065
SU 99846 08117
SU 99647 08087
SU 99392 08223
SU 99320 08242
SU 99245 08319
SU 99174 08430
SU 99073 08584
SU 99023 08570
SU 99145 08582
SU 99287 08662
SU 99374 08744
SU 99459 08809
SU 99495 08856
SU 99472 08948
SU 99413 09063
SU 99427 09192
SU 99484 09300
SU 99390 09386
SU 99340 09431
SU 99306 09410
SU 99367 09539
SU 99405 09616
SU 99444 09804
SU 99478 10006
SU 99516 10081
SU 99531 10174
SU 99557 10223
SU 99501 10393
SU 99459 10442
SU 99424 10480
SU 99517 10602
SU 99579 10572
SU 99627 10554
SU 99667 10561
SU 99732 10581
SU 99801 10613
SU 99835 10688
SU 99872 10733
SU 99801 10747
SU 99856 10896
SU 99801 11045
SU 99700 11144
SU 99596 11273
SU 99512 11249
SU 99434 11277
SU 99343 11300
SU 99272 11293
SU 99140 11292
SU 98952 11324
SU 98837 11418
SU 98562 11887
SU 98468 12027
SU 98349 12132
SU 98195 12225
SU 98293 12279
SU 98392 12296
SU 98401 12240
SU 98559 12106
SU 98707 12111
SU 98771 12108
SU 98797 12079
SU 98896 12068
SU 98799 11953
SU 98775 11864
SU 98912 11816
SU 98946 11643
SU 98943 11591
SU 98970 11478
SU 99217 11355
SU 99238 11298
SU 99508 11258
SU 99622 11288
SU 99859 11236
TQ 00019 11164
TQ 00139 11020
TQ 00193 10910