ffff
Quantocks Top Ten Downhills (well 9 really), in no particular order, see map at bottom for locations:
Weacombe - Long, long, long - badly eroded near the top in 2001 due to heavy rain
Smith's Combe - Starts off grassy and tame, then steep and rocky, then singletrack with water splashes, a real hint of the Alps in SW England
Hodder's Combe 1 - Nice singletrack that's steep and narrow - if you go really fast down here and loose it, you'll know about it
Hodder's Combe 2 - Andy's favourite Quantock downhill is narrow at the top (read gorse wipped), then fast and furious with a couple of nice bends and a log jump
Quantock Combe 1 - Stand in the car park in Quantock Combe and look up to the right (north) - the big rock strewn downhill you see coming down the hillside. Mental as anything!
Quantock Combe 2 - A steep and technical shoot through the trees that dumps you in Quantock Combe, similar to the big downhill on the Karimorr Trail at Coed Y Brenin
Quantock Combe 3 - Opposite side of the valley to 5. Start fast on the firetrack then drop in to the singletrack. Brings you out on the water crossing at the bottom
Triscombe Stone- Another fast and furious one, watch out for the bend half way down, not too dangerous, but I've overshot it on more than one occasion!
Will's Neck/Bagborough - Just ride off the top of Will's Neck - steep. steep and gets steeper! Loose near the bottom, I've only done this in dry and dusty conditions and it was hard to control your speed then!
The Slades - bollocks - don't bother - probably the most criminal waste of height on the Quantocks - put here as a warning!
There's so many excellent trails there, I'm sure you disagree with my choices - hell I think I disagree! If you want to comment, or suggest your own top ten, let me know.
A word of warning..... The Quantocks can bite and some of these downhills should not be attempted by novices as they can be very steep and have some of those nasty big rock thingies on them. Even the relatively flat bit along the top has caused injury in the past, last time we were there one of our party when over the bars, and previously we've had someone take off the skin (down to the bone) on one elbow just by not fully concentrating. Ouch!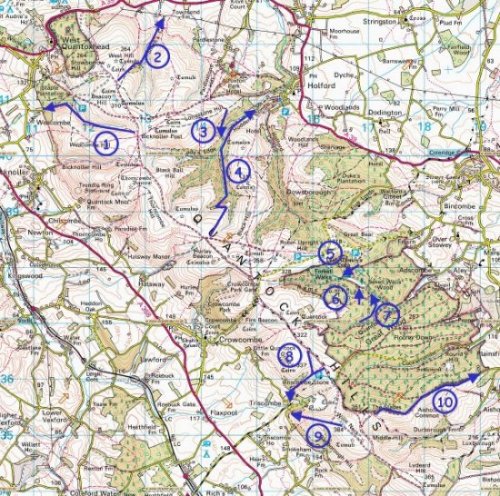 NH 2001