The Lake District, Cumbria
It's cold, wet and the rocks bite...The Lakes aren't just a bunch of lakes but Englands highest 'mountains' and are famous for offering some of Englands most extreme routes. They are also the UK's most visited holiday destination outside London.
Due to the nature of the geology of the Lakes (read very steep hill with paths that go straight up) I think the best riding is to be found on the smaller fells. Areas I know of are around Grizedale Forest (lots of people) and around Staveley/Kentmere (quiet). Some people and books bang on about High Street too...
Some nice tracks here. You can go to the visitors centre and buy a map of marked routes but unless kiddy seats and baskets are your thing I wouldn't bother. Just get an OS map and go exploring. The best bits I found were up on the moors to the west of the road that runs through the forest
From Staveley, head up the road signposted to Kentmere, then turn right towards Burneside, then immediately left after river and head up, up, up! Once your on the bridleway and up near Staveley Head, head off right and across moorland. Your aiming for Longsleddale valley roughly east (difficult to find the proper tracks round here). Also it gets boggy and there's some bridges etc to negociate. Once you find the hole in the wall, it's a head banging downhill into Longsleddale, just south of Well Foot. Go north up the valley towards Till's Hole and then up the byway signposted to Kentmere (incredibly steep at first!!) Once you get to the top - it does level out! - you drop down another real good downhill past Stile End down into Kentmere. From here you can ride over to Windermere or even over the Garburn Pass to Troutbeck but when I rode this it was freezing cold and started to chuck it down with rain/sleet so we bailed out (whimps!) and rode back down the road (v fast) to Staveley and a nice roaring fire in our hired cottage - lovely!
I could go on about High Street and the fact that its possibly the highest track you can ride over in England, but as I've walked it I can tell you - leave your bike at home!!! However, not everyone agrees with me and Tom Moore says:
I disagree with your views on High Street. Here's my view:My mate and I started in Ambleside (ie climbed up a bloody 1 in 3 or somethingroad) before dropping down to Ullswater. That's where we started the HighStreet ride from.There's a lot of steep, technical riding, and even more carrying, before you getto the ridge. But that's not too bad, as long as you don't wear Nike SPD shoesthat cause blisters... :)Once you're on "the top" you get a great ride right along the "High Street" -high, and with views. The going is fast, and not too technical.If you can find the right path down, (it took us 20 minutes) you get to a bloodysteep descent (I had to walk some of it!) down into a dale. Once you're here,you can then ride right down a great dale, down to a little place calledTroutbeck (I think). From there, it's only a short hop to Ambleside YHA, via aforest, or a road.Basically, its a strenuous day, but a top circular ride!Feel free to include this on your web-page, if you want!
I think I'll try it out next I go there as he seams pretty keen on it!
NH 1998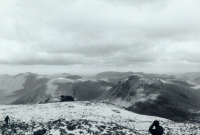 Lakeland - awesome!