Tahoe Trails
Probably the best known trails here are Mr Toad's Wild Ride and the Flume Trail, neither of which I did when I was there! If you want to know about these I suggest you check elsewhere (see links below), but I can say that I was advised that the Flume Trail is an intermediate ride and busy, and Mr Toad's is ok early in the season, but turns into a dust bowl later on in the year.
The main reason we didn't ride Mr Toad's is that it looked like a lot of climbing, and a lot of firetrack/road work for a pretty short downhill. I guess plenty of people would tell me I made a mistake, but heh, sometimes you have to call it.
The main reason we didn't ride the Flume Trail is because a local bike shop owner recommended we ride the "Bench Ride" instead. He said it was more technically demanding and his favorite ride in the area. We'll take his word for it being better than the Flume Trail, but my word is that this is probably the best bit of singletrack I have ever ridden. It is awesome!!!!!
The Bench Ride starts and finishes near Kingsbury Grade and runs along one of the rideable bits of the Tahoe Rim Trail. Instead of going out and back on the same track, we rode out on a firetrack road (with some very steep climbs on it requiring granny ring) which eventually results in a long steep rocky downhill. After a while of going downhill you reach the crossing point of the Tahoe rim trail and this is where you start to return back. The first bit of the route is a granny ring climb which climbs and climbs, bringing you out on open moorland. Once you've reached this high point, there's about 6-7miles of singletrack, nearly all downhill, with rock steps, technical sections, fast floaty sections...well everything really.
I would like to say I cleaned the whole lot, but unfortunately I had to dab three times, and the third time was with my head!!! Just before you get back to the car park there is a rocky drop off section which is like a staircase. My front wheel dropped into the backwards sloping bottom step and stopped dead, as I didn't have my weight right and it was head plant city! Fortunately I was alright, although my right brake lever needed major surgery! Still, there was no way this could dampen my enthusiasm for this fantastic ride. If you're in the area, make sure you ride it!
Bike Parks
Northstar at Tahoe is probably the best. It's got a 100miles of trails, a lot of which is singletrack, lift access and some great riding.
Squaw Valley is another bike park in the area, but after reading up people's comments on some other riding websites, we decided not to ride there, so I can't comment any more than that.
Another bike park which is open (weekends only) is Kirkwood, which has only a few miles of trails. I didn't go there as it looked a bit limited, which is a shame as the skiing there is awesome!
There are some others around, Eagle Mountain, Homewood etc, see the Tahoe's best website for more information.
Other useful information
Maps Of Tahoe Area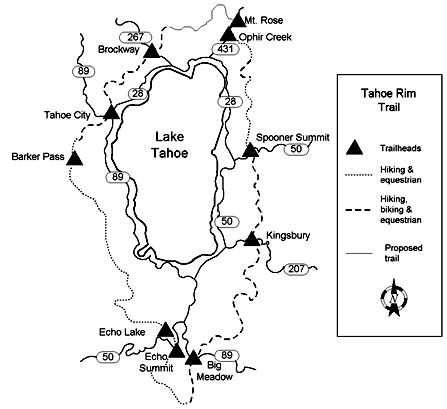 Tahoe Rim Trail

Northstar at Tahoe
NH, 2000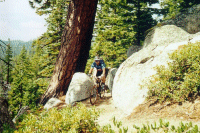 Granite and big trees, great!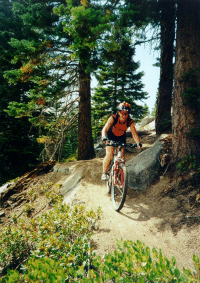 Enough singletrack to keep you busy...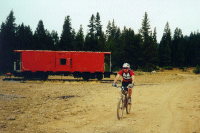 Northstar at Tahoe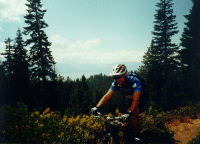 Riding the Bench ride, Lake Tahoe Rim Trail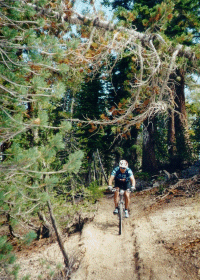 Northstar singletrack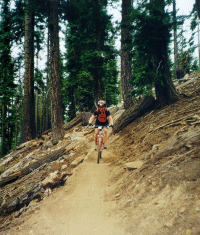 Northstar singletrack