Bagneres de Luchon
Bagneres de Luchon, or more commonly known as just Luchon, is a spa town about halfway between the Atlantic and Mediteranean coasts. The town is surrounded by peaks, but the main area for riding is centred around the ski area of Superbagneres, reached by 20min gondola ride from the middle of town. For all you hammerheads out there, this is where you'll spend all your time, but if you like a bit of variation (read climbing!) then some of the other rides in the area are well worth tackling.
Around Superbagneres
A single ticket costs around £3.50, and gets you about 1200m vertical. There is a route map which has graded runs on it. These are indicated like ski runs, red harder than blue (unfortunately no black!). There is one red run (Gouron) and three or four blue runs marked on the map, and these are fairly easy to find. The blue runs are fairly boring fire tracks that weave their way down. Much better is the red, which in total is about 12miles long. However, for a better way down, drop off the red at the GR10 footpath - legal to ride in France, and enter singletrack switchback heaven!! This is one of the best routes I've ever done - thoroughly recommended.
Around Luchon
There are some wonderful tracks around the Luchon valley and many of them are marked. You can get a map and route profile booklet from the tourist office for free, just ask. In it there is a dozen or so routes ranked in terms of technical and physical difficulty. The 4 star ones are pretty tough! I liked the riding up around St Aventin and Saccourville, which is route 11 in their book. The downhill back to Luchon from Cazarit Lespeno is superbe, rocky technical, steep and full of switchbacks. The only disadvantage of these routes is that the climbing to reach them is real steep and hard - but all rideable.
Also good if you like a long road ride or have two cars (better) is the singletrack route down the Vallee d'Oueil. Just watch out for electrified wire fences crossing the track - I didn't see one and got 240V pulsing through my calf whilst lying on the ground in a heap! Took about two days to get full feeling back!
You just can't get bored of the riding in this valley, and the scenery is fantastic. However, if you fancy a few days off, I recommend visiting the extreme sports booking place in town. It's where to book if you want to parapente, hydrospeed, canyon, raft etc etc. We tried Canyoning, as the water was a little low for hydrospeeding. This is where you abseil (rapel) down waterfalls into a canyon - awesome fun!
Go there - and Rule!
NH, 1997
Some Useful Telephone Numbers:
Luchon Tourist Office: 05.61.79.21.21
Superbagneres Tourist Office: 05.06.79.36.36

Bike Shops
Bailey Demiguel: 05.61.79.12.87
Luchon Mountain Bike: 05.61.79.88.56
Virgule 7: 05.61.79.88.56
Snow Fun: 05.61.79.81.41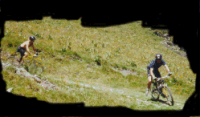 The fast part of Gouron

Droping off in the woods
Canyoning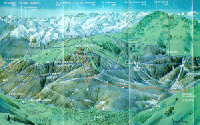 Superbagneres - Route Map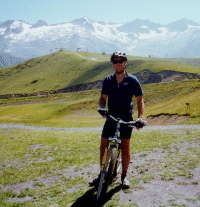 Looking towards Spain from Superbagneres