ffff
Peaslake
This is a typical ride around Peaslake encompassing Holmbury and Pitch Hills. This route is good, because it forms a series of loops, which can be extended or reduced to suit conditions and time.
There's so much singletrack around these parts that if you follow your nose you'll find something. This ride is about 20k and was done in January, so pretty much year round. In the summer you can add sections all over the place that can get boggy in winter to make things more interesting.
The two best bits on this ride are the sections of singletrack west of Pitch Hill and those coming off Holmbury Hill. There are some great bombholes here too, but they are often really boggy, hence the motorway first part of the descent. If it's summer though... that's a different matter!
Enjoy
Nick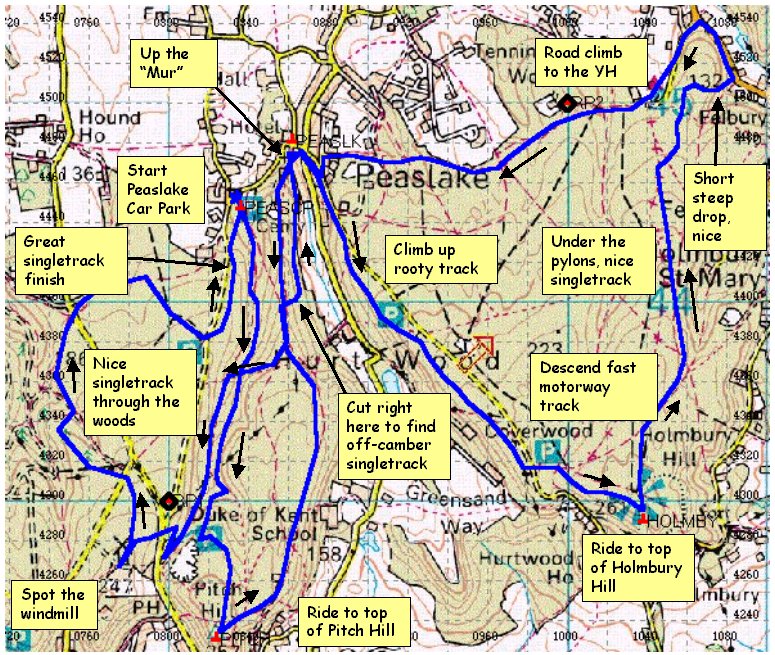 TQ 08337 44525
TQ 08342 44557
TQ 08362 44485
TQ 08423 44293
TQ 08404 44057
TQ 08445 43997
TQ 08445 43886
TQ 08421 43752
TQ 08360 43665
TQ 08333 43492
TQ 08287 43367
TQ 08255 43279
TQ 08240 43136
TQ 08243 43099
TQ 08291 43054
TQ 08214 43017
TQ 08192 42922
TQ 08155 42804
TQ 08205 42826
TQ 08293 42752
TQ 08309 42657
TQ 08295 42576
TQ 08287 42498
TQ 08272 42392
TQ 08251 42345
TQ 08354 42417
TQ 08455 42468
TQ 08528 42521
TQ 08562 42589
TQ 08588 42706
TQ 08601 42782
TQ 08655 42969
TQ 08739 43267
TQ 08726 43580
TQ 08595 43757
TQ 08563 43981
TQ 08635 44016
TQ 08659 44050
TQ 08623 44203
TQ 08635 44348
TQ 08634 44407
TQ 08637 44524
TQ 08600 44746
TQ 08655 44753
TQ 08743 44647
TQ 08784 44523
TQ 08881 44310
TQ 08892 44231
TQ 08925 44146
TQ 09002 44042
TQ 09067 43931
TQ 09148 43867
TQ 09266 43803
TQ 09301 43726
TQ 09372 43631
TQ 09449 43562
TQ 09503 43497
TQ 09616 43405
TQ 09723 43271
TQ 09742 43235
TQ 09783 43167
TQ 09851 43167
TQ 09953 43165
TQ 10021 43104
TQ 10095 43048
TQ 10196 43044
TQ 10294 43011
TQ 10378 42954
TQ 10359 43083
TQ 10375 43358
TQ 10553 43612
TQ 10589 43722
TQ 10557 43916
TQ 10528 44082
TQ 10518 44193
TQ 10500 44341
TQ 10464 44567
TQ 10450 44676
TQ 10502 44725
TQ 10553 44787
TQ 10548 44902
TQ 10576 44957
TQ 10590 45068
TQ 10641 45097
TQ 10688 45065
TQ 10758 45074
TQ 10830 45129
TQ 10806 45171
TQ 10740 45350
TQ 10663 45411
TQ 10584 45339
TQ 10544 45227
TQ 10450 45091
TQ 10422 45037
TQ 10394 45023
TQ 10320 44975
TQ 10224 44969
TQ 10105 44952
TQ 09938 44900
TQ 09807 44809
TQ 09706 44728
TQ 09651 44677
TQ 09527 44650
TQ 09384 44698
TQ 09262 44726
TQ 09156 44706
TQ 09086 44706
TQ 08965 44728
TQ 08893 44745
TQ 08771 44731
TQ 08769 44631
TQ 08696 44720
TQ 08662 44762
TQ 08608 44703
TQ 08575 44628
TQ 08545 44555
TQ 08555 44498
TQ 08563 44139
TQ 08580 43917
TQ 08593 43809
TQ 08523 43689
TQ 08413 43657
TQ 08303 43634
TQ 08281 43602
TQ 08252 43481
TQ 08213 43371
TQ 08196 43139
TQ 08172 43051
TQ 08133 42982
TQ 08099 42890
TQ 08055 42817
TQ 07974 42715
TQ 08036 42870
TQ 07910 42820
TQ 07835 42803
TQ 07751 42668
TQ 07808 42788
TQ 07823 42935
TQ 07824 43027
TQ 07791 43114
TQ 07597 43173
TQ 07443 43364
TQ 07523 43449
TQ 07430 43633
TQ 07485 43866
TQ 07542 43982
TQ 07623 44060
TQ 07887 44126
TQ 08005 43949
TQ 08176 43819
TQ 08262 43865
TQ 08303 43974
TQ 08331 44186
TQ 08304 44269
TQ 08366 44485