Les Gets
Les Gets is near Morzine in the French Alps. It's a small ski town linked with Morzine, Avoriaz and several other resorts to form the 'Portes du Soliel' ski area. In summer, there are a few lifts open in the Les Gets valley, and you can either buy a lift ticket for a single ascent(around 18FF per lift), or you can buy a one day lift pass for the whole of the Portes du Soliel (FF75). You can also buy weekly passes for FF350. This will enable you to bike over to Avoriaz or Chatel and back without having to do too many climbs!
The Riding
If you go to the tourist office you can buy (FF20) a route map which has graded runs (green = easy, blue = medium, red = difficult, black = very difficult). There is also a permanent downhill course, the top part is easy to find - right off Mont Chery, which you can try your hand at! How those top guys go so fast down something so steep and rutted is beyond me!
Mont Chery Side
I liked the black trail No 10 which starts from the top of the Telecabine du Mt Chery and goes round to Les Placettes, the Col de l'Encrenaz and then to some really nice whoopy bits - I like the sign telling you to get off your bike for fear of death!
Also good is the downhill No 9 which starts steep then flattens and then goes down again watch out for the really bermed corner where you could easily get 10ft up the bank going round! Unfortunately the part just above Les Econieres (where the campsite is) is really boggy - but you have to take the rough with the smooth.
Les Chavannes Side
On the other side of the valley to Mont Chery is the old telecabine up to Les Chavannes. It's from here that you can ride over (past the golf course) to Morzine. There is also a couple of really good downhills here, although they are a little harder to find. The first is the black that runs under the lift, it has a few really nice sections on it, but I noticed this year (1999) it had fallen into a bit of a bad state of repair and was difficult to pick up. Better to try the other track down into town - this is really good! Ride along the road from the Chavannes lift for about 2-300m and then drop left. This is a steep, rocky and rooty track that is a real challenge, it brings you out in town too - cool!
Another good track on this side can be accessed from round the back of the golf course. It starts off fairly tame with some nice swooping down in the trees. But it just gets steeper and steeper...the bottom section is really steep with a couple of sections I couldn't ride (I guess there's someone out there who's mental enough to do it! The trail finishes running over a stream (narrow bridge) and brings you out near the roundabout at the north end of town. A word of advice - neither of these two trails are on the bike map - you need the French equivalent of an OS map to find them. But it is worth the effort!
Bike Shops
I couldn't find any decent shops in town, may be they exist but I couldn't find them! There are a couple of hire places, which rent crappy old bikes and a couple of Spec. Rockhoppers. Definitely lacking in this department. Morzine, though has some better shops, see below.
Accommodation
There is only one campsite(***), with a fabulous view of Mont Blanc, up the side of the valley at Les Econieres. It's pretty small, so book in advance through the Tourist Office. It has the benefit that you can finish back at you accomodation with a nice downhill. The disadvantage though, is the fact that someone has to drive if you want to beer it up in town.
NH, 1998, 1999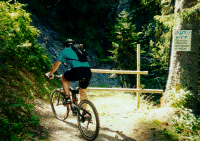 The sign says get off your bike...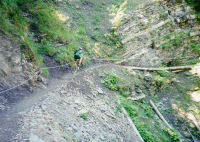 But we say 'Don't look down'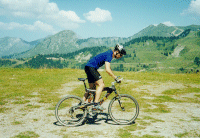 Les Gets - It's not all flat!

Les Gets Routemap

Les Gets downhill
Morzine/Avoriaz
Home of mental downhills! We found a bit of good cross country style riding, but not as much as at Les Gets. However, take a chair up and blast those downhills!
From the top of the lift that would take you up towards Les Gets, you can pick up a permanent Descente VTT course. Keep an eye out for mental French Downhillers though as they all hang out here, just riding the downhill all day (tuff life eh?) There is also another permanent downhill in town, making for Downhiller's paradise. The town is also a really buzzing place in summer, much more up tempo from sleepy Les Gets.
You can also easily get up to Avoriaz and over into the next valley (some really nice riding here) and even over to Chatel (if you were to drive this from Morzine it would take a couple of hours - it's quicker to ride/lift!
NH 1999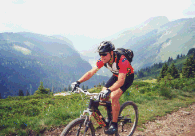 Climbing above Morzine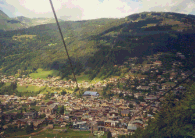 Morzine from the Gondola
Samoens
Samoens is a gentle and attractive village 21km from Cluses, and lies at the foot of the Aiguille de Criou. There is camping on the banks of the River Giffre, with good views of the parapente'rs and the Aiguille. The river also serves as a good bath for washing bikes! Samoens is linked to the Grand Massif ski region, which comprises Flaine, Les Carroz, Samoens and Sixt.
For lifts though, you must go either to Samoens 1200 or up the valley to Sixt. Also, you can go over the Col De Joux Plan to Morzine or up to Les Gets from Taninges. Another idea is to drive up to Les Carroz. Here there's a good link up to Flaine by a big gondola (you can also get there by riding/lift from Samoens 1200. The big benefit of going from Les Carroz is that the ride down from Flaine is really long and really, really good!
Flaine, though, is a pit! I remember going skiing here and thinking it was an eyesore, and in summer it's even worse. It's such a shame, as riding over there from Les Carroz way is really beautiful. The track is technical and right on the edge of the hill. Then you drop down to this horrible concrete monstoristy. Don't stay here!
The Grand Massif area is also famous for a what must be mental downhill ride/race that's called the "VTTocine". This takes place at the end of July and goes from the top of the highest lift in Flaine (about 2500m up - there's permanent snow up there) down to the valley floor. We didn't see it, as it was just before we arrived, but I seen pictures, and it looks absolutely mad!!
For a good wow factor, you must make the trip up the valley to the Fer a Cheval. This is where 1000m high cliffs surround you in one of France's biggest Cirques. Makes you feel very small!
NH, 1995, 1999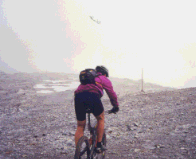 On the Desert de Plate, above Flaine

The run down to Flaine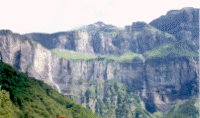 Cirque a Fer a Cheval